African academy empowers youths
Girls in Uganda learn how to teach others to realize their visions, create jobs and wealth in rural areas.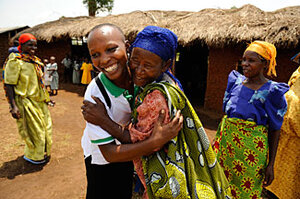 Mary Knox Merrill/The Christian Science Monitor
Drumbeats pulse through the soft afternoon breeze. Teenage girls sing in unison, ululate, then sing again, cheering on their fellow student-athletes as they play long games of volleyball and netball. Baboons pluck at people's pant cuffs before scampering off to the next bit of mischief.
It's a field day here at the campus of the Uganda Rural Development and Training Programme (URDT), where girls learn how to take hold of their own future, teach their parents key skills, and make "Yes, We Can" more than just a campaign slogan in a faraway land.
These girls might not know it, but their small school is being watched as a potential model for transforming poor, war-torn African nations.
With a median age of 15, Uganda has the world's youngest population, according to a 2008 World Bank report. It also has the highest youth (ages 15 to 24) unemployment rate: 83 percent. It's common to find 20-somethings with law and business degrees stocking supermarket shelves. To break the cycle of poverty and war in places like Uganda, some development specialists now say that people don't need fancy degrees; they need to gain practical skills to create their own income – in the countryside – so they won't flood urban slums or join militias. The answer, they say, also lies in helping people learn how to maximize the assets they already have, and in changing the culture from "hands-out" to "can-do."
"Youth unemployment is the most critical problem Africa faces at the moment," says Calestous Juma, a Kenyan professor of international development at Harvard University in Cambridge, Mass. "If you find something that works in Uganda, it will work elsewhere in Africa."
---