Obama in Africa: Big on inspiration, short on specifics
The day after President Obama's historic trip to Ghana, analysts find few concrete details about future policy shifts.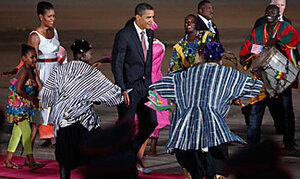 Jim Young/Reuters
In a 24-hour visit to Ghana, Saturday, President Obama made his first major speech on Africa, in which he called on Africans to be better stewards of their governments.
"Development depends on good governance," he said, addressing Ghana's parliament. "That's the change that can unlock Africa's potential. And that is a responsibility that can only be met by Africans."
Mr. Obama's maiden presidential voyage south of the Sahara was keenly watched across Africa as the first test of how this son of the soil will wield his star power on the continent. With but a single Saturday to spare, Obama toured a maternity ward, held bilateral talks, and visited a slave dungeon where centuries of captives were imprisoned before their final voyage by sea to the new world.
Speaking before parliament, the president outlined the four basic themes of his Africa policy – spreading democracy, diversifying single-product economies, extending public health, and mediating ethnic conflict. For some analysts, however, Obama's speech was a tad short on concrete policy details.
"It was an important speech and it's by far the most comprehensive statement he's made on Africa, but it still leaves a lot to the imagination," David Shinn, former ambassador to Ethiopia, said. "He didn't really give a very good picture as to what the US is going to do in the Congo, or Somalia, or Sudan."
Short on details?
---