Africans reflect on Obama's 'tough love' message
The president used his first African visit – to the democratic bastion of Ghana – to signal a harder-line US approach to dealing with corrupt African leaders.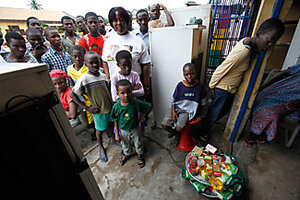 Rebecca Blackwell/AP
President Obama's international tour, which ended Sunday, raised a question that will rattle in the minds of Africans for some time: Do African leaders have more to fear from America's first black president than they have to gain?
Mr. Obama, a popular hero to the continent, enjoys at least surface adoration of its leaders, too. Politicians in South Africa, Ghana, Kenya, and elsewhere have positioned themselves as allies, friends, and kindred spirits to the US president. Zimbabwean President Robert Mugabe, a vehemently anti-Western autocrat, even offered to meet with Obama.
Yet the president used his first African visit – to the democratic bastion of Ghana – to send a critical message to Africa's leaders: It's time for the corrupt old ways to end. The "tough love" message is one that Obama is uniquely qualified to deliver, and it signals a new, harder-line US strategy that may ruffle some feathers.
"Africans are very delighted to have a [US] president with African roots, but you should be careful of what you want, because an American president with African roots can be much more severe than a white president ever could," says Steven Ekovich, a policy analyst at the American University in Paris. "He can give them tough love, just as Obama can be tougher on African-Americans at home."
---
Follow Stories Like This
Get the Monitor stories you care about delivered to your inbox.