How one youth was drawn to jihad in Somalia
Like the Somali-American from Minnesota who was killed this weekend, Tawakal Ahmed was recruited through mosques in Kenya to fight for Islamic militants in Mogadishu.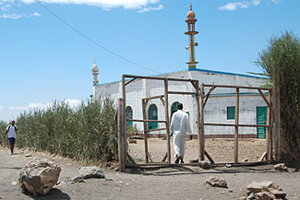 Heba Aly
A smattering of wispy clouds dots the blue sky as white-robed worshipers trickle into Taqwa mosque for Friday prayers. Our car is parked outside the mosque, slightly hidden by a hedgerow of tangled savannah brush that defines the mosque's perimeter. A cool, dry wind blows across this arid town – refreshing against the equatorial heat, but leaving a blanket of dust on the whitewashed buildings.
The car's tinted windows are rolled up to protect against the fine film of dust – and to conceal me from sight.
Isiolo is smack in the center of Kenya, far from Somalia. But the sermon pouring out of the mosque's loudspeakers is in Somali. We listen for a few minutes before the driver abruptly pulls away.
"If they catch us spying on them, we'll be stoned," he says.
AFTER ATTENDING THIS MOSQUE and another near his home, Tawakal Ahmed, a young Kenyan man of Somali descent, journeyed to Somalia. Last November he blew himself up.
At least that's what his family and friends say.
Muslim militants have recruited from elsewhere in Kenya, seeking those who will help them win control of Somalia. Until now, they've drawn from Eastleigh (Nairobi's Somali enclave), Somali refugee camps in Kenya, and areas along the Kenyan-Somali border. But if what Tawakal's family says is true, he is one of the first known cases of recruitment in Kenya outside those traditional hunting grounds.
Some analysts say this case in Kenya shows that the recruiting networks of Somalia's insurgency may be more vast than once presumed. Similar cases are also coming to light in the United States.
---