Nigerian forces move in on Islamist radicals
Boko Haram has attacked schools, police stations, and other symbols of state power. While the group is relatively minor, the attacks underscore a widespread public distrust of the government.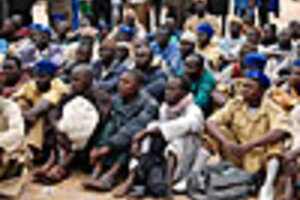 Afolabi Sotunde/Reuters
After a murderous three-day insurgency that has claimed the lives of at least 150 people, Nigeria's military and security forces have moved in to target the radical Islamist group that has claimed credit for the attacks.
While experts say Boko Haram – whose name, "Western education prohibited," signals its political agenda and choice of targets, including schools – is relatively minor and lacks popular support, these attacks still represent a troubling disenchantment throughout Nigerian society toward their own government.
"In reality, this group is only a localized threat, but it is also an indication of a problem of Nigerians' frustrations, and the complacency of the government," says Antony Goldman, an independent risk consultant in London who specializes in Nigeria.
Widespread dissatisfaction
Most Nigerians complain loudly that their country is getting noticeably worse, Mr. Goldman says – despite some 50 years of freedom, about a decade of democratically elected governments, and Nigeria's possession of vast oil wealth.
Power shortages are common, roads are rutted, schools graduate students who can't read, and government officials are criticized for appearing to care more about their perks than solving problems. Traditional respect for elders, particularly in the Muslim north, tends to keep Nigerians from taking to the streets, but periodic bouts of violence show that the frustration is there.
"These things keep coming up," says Goldman, referring to insurgencies in Nigeria's oil-rich Niger Delta region, and in the Muslim-majority north, "and the only thing that changes is that Nigeria is poorer."
Nigeria's demographic mix has long been a source of tension and sectarian violence. Half of its 140 million people are Christians, and live in the tropical south; the other half, living in the arid north, are Muslims.
---