Hillary Clinton, in Liberia, targets good government
The country, led by Ellen Johnson-Sirleaf, has made significant strides since its brutal civil war ended in 2003.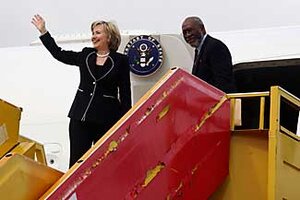 Sunday Alamba/ Reuters
Johannesburg, South Africa
Until a few years ago, Liberia was not the sort of place a US secretary of State would generally visit. Riven by a brutal civil war from the late 1990s until 2003, that killed nearly 250,000 and maimed countless others, Liberia was the poster child of senseless conflicts.
But protected by a United Nations protection force, and led by a woman president, Ellen Johnson-Sirleaf, since 2006 elections, Liberia has begun a healing process that makes it a cause for celebration, if not exactly a model for resolving other African conflicts.
There are plenty of African countries that have more resources than Liberia, larger populations, more strategic positions close to oil routes, and the like. But the visit of Secretary of State Hillary Clinton to Liberia today is meant to illustrate that America puts as much importance on good governance as it does on pure natural resources.
Highlighting the fact that President Sirleaf is a woman is "very important," and Mrs. Clinton's visit to Liberia "has symbolism," says Richard Moncrief, head of the Dakar, Senegal, office of the International Crisis Group.
Sirleaf's experience at the World Bank and in private banking gives her a leg up in handling a country that is still pulling itself out of war debt, but Mr. Moncrief says it is her personal qualities of honesty that set Sirleaf apart from other African leaders.
---