A girl's journey: From dollar-a-day Malawi to elite US prep school
The star scholar of a program that sends girls to school in Malawi spent the summer at Phillips Exeter Academy. But as she returns home, challenges loom.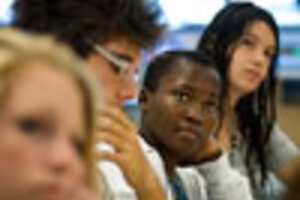 Mary Knox Merrill/ Staff
Idah Savala is navigating several new experiences these days: going ice skating, eating a snow cone, shopping at Wal-Mart – not to mention her first airplane ride and her first trip beyond the borders of her home country, Malawi.
In an unlikely journey that most girls in Malawi can only dream of, this 16-year-old from a rural village spent the summer attending Phillips Exeter Academy in New Hampshire.
She's one of 17 girls who go to secondary school in Malawi thanks to scholarships from Advancing Girls' Education in Africa (AGE), a small nonprofit organization founded four years ago with donations from Monitor readers. Through her hard work at school, the kindness of a stranger who sponsored her trip, and the efforts of AGE, she was able to attend one of the premier secondary schools in the United States.
What is driving Idah in her endeavor is not the new experiences themselves, but the knowledge of what she will do with them when she returns home. She wants to use her time at Phillips Exeter in pursuit of her goal: helping to ease the shortage of doctors in Malawi by becoming one.
---