US embassy, offices in South Africa remain closed after terror threat
All US government offices in the country were ordered closed on Tuesday after authorities received 'credible,' undisclosed information about a terrorist threat.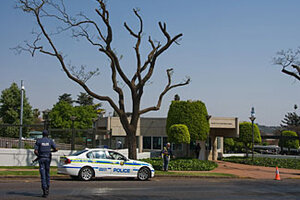 Waldo Swiegers/AP
Johannesburg, South Africa
The US embassy in Tshwane (Pretoria) and US consulates in Cape Town, Durban, and Johannesburg remained closed Wednesday, following information that US officials say indicated a specific terror threat against US government targets in South Africa.
The US diplomatic shutdown began Tuesday and comes at a time when terrorist organizations have largely shifted their strategy from so-called "hard targets," such as highly protected facilities like embassies, airports, and US military installations, to "soft targets," such as train stations, hotels, shopping malls, and sports venues.
The move also comes just a week after US authorities arrested a group of suspects thought to be building backpack bombs in Denver and in the Queens borough of New York City. A manhunt continues for a half dozen other suspects in that case.
US embassy spokeswoman Sharon Hudson Dean told the Monitor, "We are not discussing the information we have received, but it is just in South Africa," and there appear to be no security threats involving other US interests in other parts of Africa.
---