Tsvangirai: Zimbabwe's MDC 'disengaging' from unity government
Zimbabwe Prime Minister Tsvangirai announced that his party will boycott meetings with President Mugabe's ZANU-PF party until they resolve their differences. Mugabe foe Bennett was released from jail on bail today after being detained Wednesday.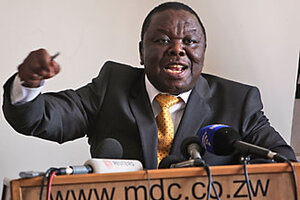 Tsvangirayi Mukwazhi/AP
Zimbabwe President Robert Mugabe may have pushed his coalition partners around one time too many.
Prime Minister Morgan Tsvangirai has said his party, the Movement for Democratic Change (MDC), has "disengaged" from the power-sharing government with President Mugabe. The move came after Mugabe's police arrested a top member of Mr. Tsvangirai's inner circle.
Addressing a press conference in Harare on Friday, Tsvangirai stopped short of withdrawing his party from government, but said his party would boycott all future meetings with Mugabe's ZANU PF party until outstanding issues were resolved. He also accused ZANU PF of deliberately provoking a crisis for the eight-month-old inclusive government.
"In this regard, whilst being government, we shall forthwith disengage from ZANU PF and in particular from Cabinet and the Council of Ministers until such time as confidence and respect is restored amongst us," said Tsvangirai.
The MDC boycott marks a potential turning point in the unlikely coalition between two bitter enemies, Tsvangirai and Mugabe, who formed a unity government in February after an 11-month standoff that followed the March 2008 elections. Tsvangirai's MDC won control of parliament, but Mugabe's steadfast refusal to concede defeat then – or to cede authority to his coalition partners now – has remained a dangerous stumbling block for the Zimbabwe government, and has stalled its ability to put the country on a path to recovery.
---