Zimbabwe's Tsvangirai asks region to rein in Mugabe
Days after he 'disengaged' from his country's unity government, Prime Minister Morgan Tsvangirai flew to Mozambique today as part of a regional tour for support.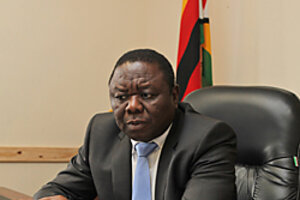 Tsvangirayi Mukwazhi/AP
Johannesburg, South Africa
Now that he's "disengaged" with Zimbabwe's coalition government, Prime Minister Morgan Tsvangirai has embarked on a tour of the regional Southern African Development Community (SADC) bloc's member states, aimed at persuading them to rescue his country's seemingly ill-fated national unity government.
After eight shaky months in a coalition, Mr. Tsvangirai's Movement for Democratic Change (MDC) announced that it was pulling back from a grudging partnership with President Robert Mugabe's ZANU-PF party. The announcement followed last week's arrest of Deputy Minister of Agriculture Roy Bennett on what the MDC claims are trumped up, political charges of possessing arms for the purposes of banditry, terrorism, and inciting acts of insurgency.
Mr. Mugabe has shrugged off the MDC boycott and today chaired a weekly cabinet session without the MDC. But Tsvangirai maintains that if the SADC fails to rein in Mugabe, the MDC will completely pull out of the unity government, a situation that could see Zimbabwe plunge back to political and economic crisis.
---