Can Mutambara save Zimbabwe's power-sharing government?
Zimbabwe's Deputy Prime Minister Arthur Mutambara portrayed himself as a mediator while decrying the obstinance of President Robert Mugabe and opposition leader Morgan Tsvangirai.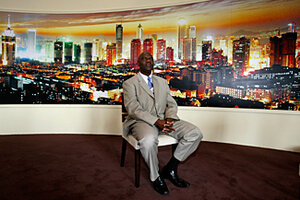 Elizabeth Dalziel/AP
Johannesburg, South Africa; and Harare, Zimbabwe
For the second week running, President Robert Mugabe's coalition partners – the Movement for Democratic Change (MDC) – have boycotted cabinet meetings. It's the latest sign that the country's fragile power-sharing agreement could collapse.
But this doesn't mean that Mr. Mugabe's ZANU-PF party has the government all to itself. Arthur Mutambara, the country's deputy prime minister and leader of a smaller faction of the MDC, and other members of his party attended cabinet meetings this week in a bid to hold the so-called Government of National Unity together.
Mr. Mutambara this week portrayed himself as a mediator, while heaping criticism on both Mugabe and his own fellow opposition leader, Morgan Tsvangirai, for their obstinance.
"Tsvangirai should not have [disengaged from the unity government] since we need to fight Mugabe from within," Mutambara told reporters on Sunday. As for Mugabe, Mutambara said, "If the [coalition government] collapses, we are telling Mugabe that he will be like a rebel leader and not president of the country. I have told him to shape up or ship out and I am still maintaining that."
---