Climate change: Are women the solution?
A new UN report says that women are the key to helping countries prepare for climate change and mitigating the damage.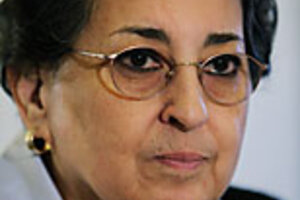 Lefteris Pitarakis/AP
Johannesburg, South Africa
It is often asserted that climate change will affect women the most in the developing world. That's because most women will have to walk farther for drinking water, work harder to grow food, pull daughters out of school to help with family chores, and fuss more about family hygiene as the world – and particularly the developing world – becomes a hotter, drier place to live.
But women could also be the key agents of change that help countries to do a better job of preparing for climate change, and mitigating the damage.
That is the intriguing idea that comes out of a new report, issued Tuesday by the United Nations Population Fund (UNFPA), at an Arab League summit held in Cairo this week.
"We cannot successfully confront climate change if we neglect the needs, rights, and potential of half the people on our planet," said Thoraya Ahmed Obaid, executive director of the UNFPA, last week at the launch of the UN's State of World Population 2009 report, which is getting a second push at the Arab League summit in Cairo.
"Women should be part of any agreement on climate change – not as an afterthought or because it's politically correct, but because it's the right thing to do," Ms. Obaid said. "Our future as humanity depends on unleashing the full potential of all human beings, and the full capacity of women, to bring about change."
What women do now
Women in the developing world don't need to be told that 10 of the warmest years since 1880 have occurred in the past 15 years. That the world's climate is changing rapidly is not a matter of debate for women in the developing world, especially in the arid regions of North Africa and the Middle East.
---