African Cup of Nations: Togo soccer team leaves tournament after deadly ambush
Togo's team withdrew from the continentwide tournament on Sunday, two days after suspected separatists in the host country Angola's northern Cabinda region sprayed gunfire into the Togo team's bus killing three and wounding several others.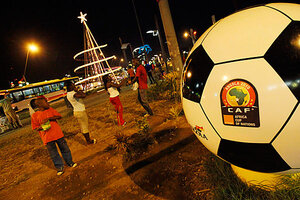 Darko Bandic/AP
Togo's soccer team withdrew from a continentwide tournament in Angola hours before the opening match Sunday, reluctantly bowing to a retreat after its government accused the host of failing to protect the players following a deadly ambush blamed on separatists.
Underscoring the sense of insecurity, a pro-independence leader in the northern region where the ambush took place two days ago said more violence was possible.
The Togolese players themselves had earlier said they wanted to stay and compete in the African Cup of Nations in honor of their assistant coach and a team spokesman and the Angolan bus driver who died.
"We fully understand our government's decision to leave because they didn't receive enough guarantees for our security," forward Thomas Dossevi told The Associated Press Sunday. "We as players, we wanted to stay to honor the memory of our dead people, but both positions are understandable."
Togo captain Emmanuel Adebayor told local station Radio Ecclesia the team wanted to stay, but "we are children of the Togo and we will abide by the decision of our government."
Togo's Prime Minister Gilbert Houngbo said in Togo's capital, Lome, that "Angola and the African Football Confederation have not taken adequate security measures to ensure the safety of the Togolese national team."
---
Follow Stories Like This
Get the Monitor stories you care about delivered to your inbox.