Refugee camps in Kenya brace for some 20,000 Somalis
Threatened by Islamic militant group, Al Shabab, the World Food Program last week decided to pull out of southern Somalia. UN aid agencies in Kenya are planning for an increase of refugees into already-packed refugee camps.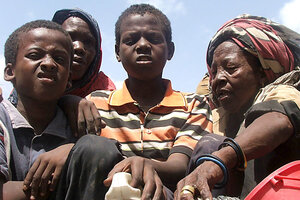 Ismail Taxt/Reuters
Johannesburg, South Africa
The forcible shutdown of food aid operations in southern Somalia by the Al Qaeda-linked radical Islamist militia, Al Shabab, has aid groups scrambling to accommodate what they expect will soon be a fresh influx of refugees into Somalia's neighboring countries of Ethiopia, Djibouti, and Kenya.
Last week, the United Nations' World Food Program (WFP), which feeds some 2.8 million people in Somalia, announced that it would pull out of areas under the control of Al Shabab, after the Islamist militia began making a list of demands, including the removal of female staffers from aid programs and the payment to militia leaders for "security."
It is still unclear how many of WFP's beneficiaries will be affected by the aid pullout, but aid agencies in Kenya are already beginning to plan for an increase of refugees into already-packed refugee camps.
"We are bracing ourselves, and looking at how we can cope with the needs of the displaced," says Yusuf Hassan, spokesman for the United Nations High Commissioner for Refugees (UNHCR) in Nairobi, which oversees the three camps on the Kenyan-Somali border in the Kenyan town of Dadaab.
---