Guinea nears civilian rule after September massacre by military
The ruling military junta of Captain Moussa Dadis Camara in Guinea announced that it supports transition to civilian rule.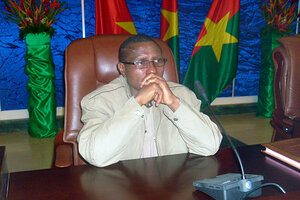 Brahima Ouedraogo/AP
Johannesburg, South Africa
A year after taking power in a bloodless coup, and a month after an assassination attempt on the coup leader by his own aide, Guinea's military appears ready to hand over power to civilians.
On Tuesday, military junta spokesman Idriss Cherif announced from the capital of Conakry that the junta leaders had selected Jean-Marie Dore, a prominent opposition leader, as interim prime minister ahead of elections within the next six months. On Tuesday, from Burkina Faso, coup leader Capt. Moussa Dadis Camara spoke publicly for the first time since the attempt on his life to say he backed the transition to civilian rule. His earlier suggestion that he could run for office triggered demonstrations that led to a September massacre by the military.
The shift to civilian rule is a dramatic turnaround for a country that appeared to be headed toward more conflict just a month ago, after junta leader Camara was shot in the head by his aide-de-camp.
---