India firm Bharti Airtel goes big into African cellphone market
Bharti Airtel, an Indian company, paid $9 billion for access to an African cellphone market serving 45 million. The world's last unsaturated market holds a potentially huge payoff.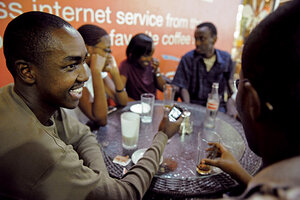 Mary Knox Merrill/Staff/File
Johannesburg, South Africa
How much would you pay for a cellphone company in 15 countries, serving 45 million Africans? The answer, for Indian cellphone entrepreneur Sunil Mittal, is $9 billion.
Mr. Mittal's company, Bharti Airtel, recently announced a deal to buy up the African assets of Kuwaiti telecom firm Zain. The deal, which is expected to be finalized in March, would be the second-largest takeover in Indian history. Bharti would also assume $1.7 billion in debt.
More important, it showcases the enormous telecommunications investment opportunities in Africa, which won't remain the world's last unsaturated cellphone market for long. The deal also highlights investment differences between India and China as companies from both emerging giants scurry to tap markets and resources on the vast, underdeveloped continent.
"The very full price that Bharti is paying for Zain has taken me aback, but it signals how keen Bharti is to come into Africa," says Aly-Khan Satchu, a Nairobi-based stock market analyst and owner of Rich Management. "Bharti thinks it can make more money because of its experience in India, with the idea that they'll work it much harder than Zain did."
Can you hear me now?
Cellphone subscriptions in Africa rose from 54 million in 2003 to almost 350 million in 2008, the quickest growth in the world, according to United Nations figures. Millions of Africans are now doing everything from checking crop prices to banking to paying their electricity bills via cellphone.
---