South Africa lions: Global financial crisis may starve lions
In South Africa, lions at SanWild Wildlife Rehabilitation Center may be have to be put to sleep if their food runs out. A drop in donations since the global financial crisis has gutted funds for the lions' food.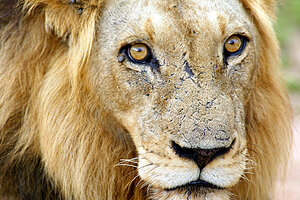 Melanie Stetson Freeman / The Christian Science Monitor
Johnannesburg, South Africa
After running wild through the world's concrete jungles, the financial crisis now stalks the South African savanna and one of the world's most beloved predators (South Africa lions) could become its prey.
The cash crunch could force a South African game reserve to euthanize 16 lions as their funds for lion food run out.
SanWild Wildlife Rehabilitation Center and Sanctuary, in the rural northern state of Limpopo, has issued an urgent funding appeal to help keep up with 45,000 rand ($6,160) monthly meat bills to feed 14 lions and two cubs. Most of the lions had been rescued from South Africa's lucrative "canned hunt" industry, in which hunters pay large fees to shoot wild animals in relatively small enclosures.
VIDEO: Standing up for Congo's rare mountain gorillas
"If we really have a problem with getting funding, we will have to euthanize the animals," says SanWild's founder and trustee, Louise Joubert, in a phone interview. Funding has been difficult for most of 2009, Ms. Joubert says, a sign that the economic crisis is discouraging potential donors from giving to animal causes such as SanWild. "We had a substantial drop in 2009, and the economic crisis had a big impact. People wrongly assume that only the large donations matter. But it's small donations that have kept us going all this time."
---