Niger coup: Good for Tuareg rebels, bad for uranium investors
The military junta announced it will audit all uranium exploration permits awarded before last month's Niger coup. Evidence has emerged that the permits enriched the ousted president and devastated the Tuareg population.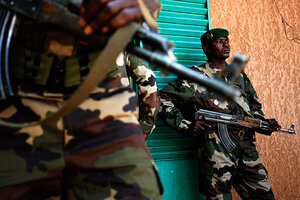 Emmanuel Braun/REUTERS/File
The military junta that ousted Niger's president raised transparency expectations and sent stocks sliding over the weekend with the announcement that it would audit all uranium and gold contracts. The announcement came just days after a coalition of pressure groups petitioned the junta to renegotiate mining contracts awarded under ousted President Mamadou Tandja.
The world's third-largest uranium deposit lies in northern Niger, the poorest zone in what the UN calls the world's poorest country. With more governments backing clean, uranium-fueled nuclear energy to replace coal-burning power, foreign investors from China, Australia, South Africa, America, and Canada have flocked to the landlocked Saharan state.
Niger's authorities have awarded at least 50 uranium exploration permits in the two years since government officials busted a 40-year mining monopoly held by France's Areva SA, according to mining officials. But government watchdogs say these opaque contracts illegally enriched Mr. Tandja and his family, even while food shortages plagued the Saharan state.
---