Sudan President Bashir threatens to expel foreign election observers
Ahead of April 11 parliamentary and president elections, Sudan President Omar al-Bashir told supporters that if foreign election observers 'interfere in our affairs, we will cut their fingers off, put them under our shoes, and throw them out.'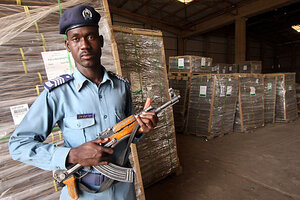 Mohamed Nureldin Abdallah/Reuters
Johannesburg, South Africa
Sudan President Omar al-Bashir has threatened to expel foreign election observers for "interference" after a prominent US-based observer mission suggested "minor delays" to the April 11 election date to create better conditions for free and fair presidential and parliamentary elections.
The Atlanta-based Carter Center, which is one of many groups invited by Mr. Bashir's government to observe the country's vote – said that the election process thus far was "mostly peaceful" but warned that "the process remains at risk on multiple fronts including the ability of candidates to campaign freely," and suggested that elections be delayed briefly.
"It is increasingly unclear if the [National Election Commission] can deliver a successful election on time," the Carter Center's report said.
Bashir: 'We will cut their fingers off'
In response, Bashir issued his own warning.
---