Commercial ship strikes back in deadly shootout with Somali pirates
The attack by Somali pirates on the MV Almezaan Tuesday, in which one pirate was killed, highlights how more commercial ships are hiring private armed security groups for protection.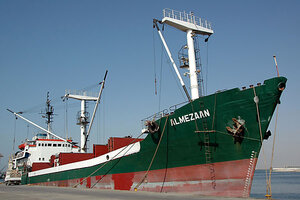 EU NAVFOR/AFP/Newscom
Private security guards protecting a commercial ship shot dead a Somali pirate Tuesday, the first recorded incident of its kind.
The pirate attack on the Panamanian-flagged MV Almezaan occurred off the coast of Somalia, and comes at a time when increasing numbers of commercial ships are hiring private armed security units to protect them during their passage through the Indian Ocean to the Red Sea. While US and French Navy crews have killed Somali pirates before during hostage rescues on the high seas, today's shooting shows that the Somali piracy problem is potentially growing more violent.
"This could be the beginning of a violent period," says E.J. Hogendoorn, head of the Horn of Africa program at the International Crisis Group's office in Nairobi. "If [the pirates] see guys with shiny barrels pointing at them, they might fire first."
---
Follow Stories Like This
Get the Monitor stories you care about delivered to your inbox.