President Bashir's chief rival boycotts Sudan election
Sudan's leading opposition party candidate Yasir Arman pulled out of the Sudan April 11 election today, citing concerns of voter fraud and insecurity in the Darfur region.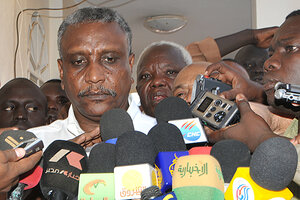 Ebrahim Hamid/AFP/Newscom
Johannesburg, South Africa
Sudan's leading opposition party candidate – running against President Omar Al-Bashir – pulled out of the election today, over concerns of voter fraud and insecurity in the Darfur region.
The pullout of Yasir Arman, the candidate for the southern-Sudan based Sudanese People's Liberation Movement (SPLM), comes less than two weeks before the April 11 national election begins, and is likely to cast doubt over the credibility of the Sudan election process.
[UPDATE: Late Thursday, the other main opposition parties joined the SPLM's election boycott.]
"This is a very significant decision, and it has the potential to be positive in resolving the problems of the process, but it also has the potential to create instability," says Fouad Hikmat, a Sudan analyst for the International Crisis Group's office in Nairobi. "What now remains to be seen is whether the political forces try to collect all their scattered pieces to create [a] cohesive idea to stabilize the situation."
What's at stake?
Stability, of course, has been in short supply in Sudan for more than two decades. A rebellion by the largely Christian southern part of the country begun in 1983 was only resolved in 2005, after the loss of some 1.9 million lives, with a Comprehensive Peace Agreement. That deal gave both the northern National Congress Party (of President Bashir) and the SPLM (of late rebel leader John Garang) equal powers in a power-sharing government.
---