South Africa leaders urge calm after killing of white supremacist Eugene Terreblanche
The bludgeoning death of South Africa's top white supremacist leader Eugene Terreblanche was called a 'declaration of war' by members of his far-right group, but the nation's leaders are calling for calm.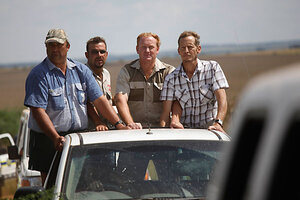 Jerome Delay/AP
South Africa's top white supremacist leader, Eugene Terreblanche, was bludgeoned to death on Saturday night, apparently by employees of his own farm in a dispute over wages.
In death as in life, Mr. Terreblanche has left a political firestorm in his path.
Terreblanche became famous for vowing to create a white homeland where the country's white minority could maintain the racist governmental system of apartheid, and Andre Visagie, a top member of Terreblanche's far-right Afrikaner Weerstandsbeweging (AWB) movement, called the killing "a declaration of war" by blacks against whites.
South African president Jacob Zuma, meanwhile, called on South Africans to remain calm.
"The president appeals for calm," Mr. Zuma's office said in a statement on Sunday, "and asks South Africans not to allow agent provocateurs to take advantage of this situation by inciting or fueling racial hatred."
Race back on the front burner
Race has been very much on the minds of South Africans in recent weeks, as the country's high court ordered a leader in the ruling African National Congress party's Youth League, the outspoken Julius Malema, to stop singing a liberation-era song called "Kill the Boer" at his political rallies.
---