South Africans face off at Terreblanche trial
A South African court on Tuesday charged two men with the murder of white supremacist Eugene Terreblanche. Outside the courtroom, whites and blacks faced off from across a police line.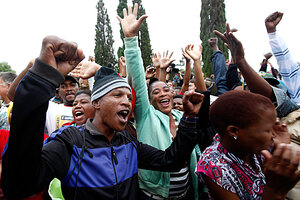 Jerome Delay/AP
White and black protesters faced each other across barbed wire and police lines as two men appeared in court Tuesday accused of killing far-right white supremacist leader Eugene Terreblanche.
In a throwback to the apartheid era, members of Terreblanche's Afrikaner Weerstandsbeweging (AWB) party flew old South Africa flags, sang the old national anthem, and threw abuse at black people who stood outside the Ventersdorp Magistrates Court to support the pair.
Inside the court, a 28-year-old farm laborer and 15-year-old casual worker were charged with theft, unlawful entry, and killing Terreblanche, 69, who was found Saturday bludgeoned to death in his bed at his farm house near Ventersdorp in North West province. Unconfirmed reports say the pair were annoyed he had not paid them monthly wages of R300 each ($41).
No media were allowed into the courtroom because one defendant is a minor. The case was postponed until April 14, when the defense will apply for bail for the suspects who remain in custody. No pleas were entered.
Outside, police helicopters hovered over the estimated 500-strong crowd with the black contingent responding to the taunts by singing the new South African anthem Nkosi Sikelel' iAfrica.
Tensions up ahead of World Cup
Saturday's murder has reignited the racial debate in South Africa and highlighted ongoing violence against white farmers, which some estimates put at 3,000 since the first multi-racial elections in 1994.
---