A Zimbabwe native helps refugees from her country in South Africa
Terry Hodson, who now lives in South Africa, delivers food and offers comfort and advice to refugees from the troubles in neighboring Zimbabwe.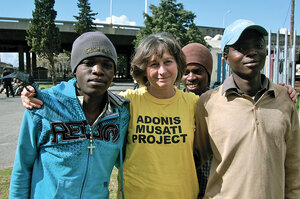 Anna Telford/Adonis Musati Project
Terry Hodson drives behind a white station wagon, almost identical to her own, carrying fellow volunteers around the curve of the road and under the highway overpass. In the shadows, five men huddle around a fire. Two wave. The others just stare.
The two cars park. Within 10 minutes, more than 75 men emerge from the shadows under the bridge and form disorganized lines behind the cars. Most of them are from Zimbabwe. They are between 16 and 30 years old, and nearly all are unemployed.
They are the refugees under the bridge.
Once a week, members of the Adonis Musati Project bring food to them – today, three sandwiches, an orange, and a bottle of water for each person. The project is one of several organizations in Cape Town that work to fill the void left by what Ms. Hodson sees as the inability and unwillingness of the South African government to provide refugees and asylum seekers with anything more than a long wait to apply for legal papers.
Hodson and some fellow Zimbabwean ex-pats formed the project in November 2007 after Adonis Musati, a Zimbabwean, starved to death while waiting for his papers at the Nyanga Refugee Reception Center in Cape Town.
The project also helps refugees compile résumés for job interviews, distributes clothes and sleeping bags, and recently opened a halfway house for 12 refugee orphan boys.
Under the bridge, Hodson recognizes a new face in the crowd. She will find out who he is, how long he has been here, and what help he needs.
---