Sudan election: Can art keep the country together?
As voters cast their ballots in the first Sudan election in 24 years, a group of artists are campaigning against a growing secession movement. From Sudan's top painters to a homeless man, they offer images of unity.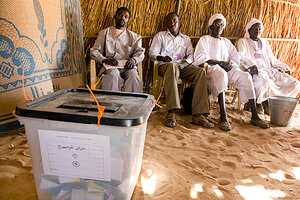 Albert Gonzalez Farran/UNMIS/AP
This week's Sudan elections – the first to be held in 24 years – will set the stage for a landmark referendum, in which southern Sudanese will have the right to decide whether to remain a part of the country they fought a civil war with, or to go their own way as a deeply impoverished but free, separate country.
With the unity of Sudan at stake, many Sudanese artists think that politics has become too important to be left to the politicians.
Polls regularly show that southerners seem inclined to vote for secession, a fact that saddens artists like Khalid Hamid, who view their country's diversity as one of its main strengths.
"I'm feeling guilty that I didn't realize that we are at the point of separating," says Mr. Hamid, one of Sudan's top painters, and one of the founders of a new artists' collective called Sudan Unite. "But our diversity is our strength as a nation. We can make a Sudan like we dream of."
The group has recently begun a campaign to paint public areas with images that emphasize Sudan's rich cultures – a blend of Arab and African; Muslim, Christian, and animist – each strong and proud, but able to coexist.
Resolutely apolitical, determinedly optimistic, and secular in outlook, the artists and intellectuals of Sudan Unite say they support the right of southern Sudanese to vote for separation if they choose. But separation, they say, would be a terrible loss for Sudan, and would leave both north and south much weaker and poorer.
Rare message of optimism
---
Follow Stories Like This
Get the Monitor stories you care about delivered to your inbox.