Sudan election problems: few enough to be legitimate?
As voting ended today in Sudan's election, voters in the south complained about being unable to find their names on the voter rolls. Jimmy Carter says the election is a major stepping stone in the peace process.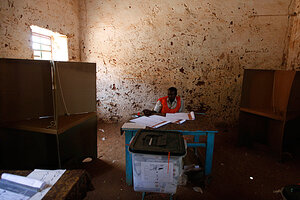 Nasser Nasser/AP
Johannesburg, South Africa and Juba, Sudan
At nightfall today, voting in Sudan's first elections in 24 years will come to an end. But the discussion of whether this five-day-long exercise was a legitimate election is just beginning.
From the earliest hours of Sunday it was clear that there were problems in the process.
Set aside the fact that most of the opposition were boycotting the elections in Sudan's north, which they viewed as rigged. Registered voters, particularly in the south, complained after visits to multiple polling stations that they couldn't find their names, and thus couldn't vote.
Ballot boxes filled up faster than expected in places, because of the size of the ballot paper. The illiteracy of many voters, especially among women, and the fact that many Sudanese were casting votes for the first time, all of this slowed down the process, forcing the National Election Commission to extend voting by two additional days.
Yet, despite the hurdles, voters like Santino Atiang Dut Atiang seem determined to cast their votes. Mr. Atiang has carried his registration slip to at least 15 polling stations since voting started on Sunday, but has yet to find his name. Why does he continue? "I want to vote," he says.
With not one but two wars hanging in the balance, the credibility of Sudan's elections is crucial. This election is a major milestone in the five-year-old Comprehensive Peace Agreement between the warring north and southern parts of Sudan – and it will be watched carefully by separate rebel movements in the Darfur region on whether they can trust the Sudanese government in Khartoum to make place for differing points of view in a new democratically run Sudan.
---