Rwandan opposition leader Ingabire released on bail
After being charged Wednesday with denying the 1994 genocide, Rwandan opposition leader Victoire Ingabire was released on bail Thursday. The move is the latest sign of rising tensions ahead of August presidential elections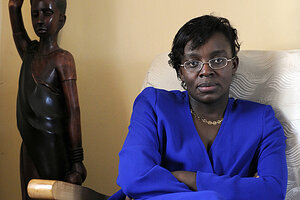 Bertrand Guay/AFP/Newscom
Johannesburg; and Kampala, Uganda
In the latest sign of rising tensions ahead of presidential elections in August, Rwandan authorities have arrested a leading opposition politician on charges of denying the 1994 genocide, spreading genocide ideology, and collaborating with a brutal Rwandan rebel army based in Eastern Democratic Republic of Congo.
Victoire Ingabire, head of the yet-to-be-registered United Democratic Forces and a former accountant who belongs to the ethnic Hutu majority, returned to Rwanda in January to register her party and launch a vigorous campaign against President Paul Kagame for August 2010 elections.
Since her return, Ingabire has been repeatedly questioned by police until eventually being arrested and charged in the capital, Kigali, Wednesday. On Thursday, she was released on bail on the condition that she report regularly to the authorities and not leave the country, according to Protais Mutembe, her lawyer.
The arrest of Ms. Ingabire comes just days after the arrest of top Rwandan Army generals on corruption charges, and weeks after a senior Rwandan diplomat fled to South Africa for safety, claiming that Mr. Kagame's strong-armed rule had limited "the political space" in Rwanda.
---