After Ahmadinejad visit, Zimbabwe now set to host North Korea World Cup team
Days after Iran's President Mahmoud Ahmadinejad stopped by, Robert Mugabe's regime in Zimbabwe gets ready to host North Korea's soccer team in the run-up to the World Cup.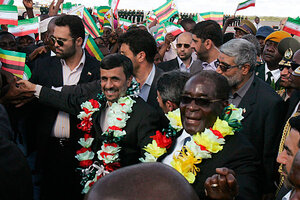 Philimon Bulawayo/Reuters
Cape Town, South Africa; and Harare, Zimbabwe
Several days ago, Zimbabwean President Robert Mugabe rolled out the red carpet for Iran's President Mahmoud Ahmadinejad, reportedly in celebration of a secret deal for Zimbabwe to receive Iranian oil in exchange for access to the large amounts of uranium ore thought to be under its soil.
During the visit, Mr. Ahmadinejad trumpeted solidarity with the troubled nation, slammed Western nations' "satanic pressures on the people of Zimbabwe," and predicted "humiliation and defeat for our enemies."
But that was last week.
Now, Mr. Mugabe is gearing up to host another country on former President George W. Bush's "Axis of Evil" list: North Korea
The rogue regime's national soccer team is coming to Zimbabwe May 25 to train ahead of the World Cup in neighboring South Africa.
For many Zimbabweans, however, news of the arrangement is unacceptable. After all, it was North Korea's military that trained Mugabe's notorious Fifth Brigade, which killed an estimated 20,000 people in the 1980s.
---