Rwanda crackdown: Human Rights Watch researcher denied visa
Human Rights Watch researcher Carina Tertsakian was denied a work visa in what critics charge is part of a new Rwanda crackdown by strongman President Paul Kagame.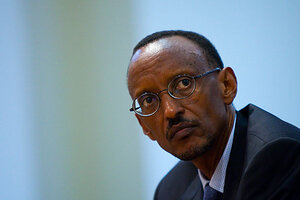 Sean Kilpatrick/The Canadian Press/AP
Johannesburg, South Africa
The government of President Paul Kagame has denied a work visa to a foreign researcher with Human Rights Watch, a sign of a broader Rwanda crackdown against political opponents and critics, human rights activists say.
On Friday, Rwanda informed Carina Tertsakian – a British researcher with Human Rights Watch – that she would not be given a work permit, alleging that there were "anomalies" among the signatures on her permit application.
Human Rights Watch asked for a meeting with immigration officials in Rwanda's capital, Kigali, but that meeting was denied and Ms. Tertsakian was expelled on Friday.
Human Rights Watch has been working in Rwanda since before the 1994 genocide of some 800,000 Rwandans – most of them of the ethnic Tutsi minority – by armed Hutu extremist groups.
Human Rights Watch has documented human rights abuses both by the Hutu genocidaires and by the current government of Mr. Kagame, and as national elections in Rwanda are approaching in August, the Rwandan government has launched a crackdown of political opponents as well as human rights organizations such as Human Rights Watch.
---