Somalia mosque bomb targets Al Shabab leaders
A bomb attack in a Mogadishu mosque this weekend failed to kill Fuad Shongole, a top leader of Somalia's Al Qaeda-linked Al Shabab militia. But the Somalia mosque bomb is taking fighting there to a new level of intensity.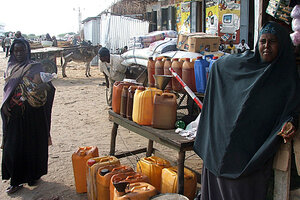 Ismail Taxta/Reuters
Johannesburg, South Africa
The bomb attack on a mosque in Mogadishu's thriving Bakara market on Saturday marks a radical departure in the rules of war in Somalia.
While there have been targeted killings in Somali mosques before, this marks the first time a bomb has been used, killing at least 32, including both members of the radical Al Shabab militia group as well as ordinary worshipers.
The target of the attack appears to have been Fuad Shongole, one of the top three Somali leaders of Al Shabab, but Mr. Shongole appears to have survived with injuries. In a radio interview after the blast, Shongole blamed unnamed foreign security firms working for the African Union for the bomb attack, and encouraged Islamist fighters to take revenge.
"The Muslim people of Somalia must fight the African Union troops of the occupying force using the means at their disposal, including suicide attacks," said Shongole. "Go to their compounds and make all the necessary sacrifices to fight these invaders."
Another level
In a war where even the army of the Somali government frequently shells busy marketplaces full of civilians, the bombing of a mosque at prayer time seems to be the last remaining taboo of war.
Details of how the bomb blast was carried out – with a planted bomb set off by remote control, or by suicide bombers wearing bomb vests – are still unknown, and if investigated may never be divulged.
---