World Cup soccer: Why S. Africa booed concert headlined by Shakira
FIFA failed to include a single South African act in a June 10 concert to kick off the World Cup soccer tournament this summer in South Africa. After a minor uproar, they added five new acts to a list topped by Shakira.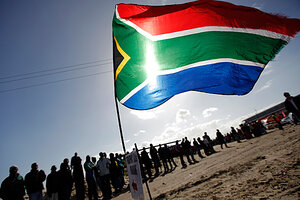 Mike Hutchings/Reuters
Johannesburg, South Africa
When South Africa officially welcomes the world to the World Cup next month, complete with a concert headlined by Shakira, few fans will realize what a controversy nearly marred that first impression.
As World Cup organizer, FIFA (officially known as the International Federation of Association Football) last week named Shakira's "Waka Waka" the theme song and tapped top Western artists including Alicia Keys and Black Eyed Peas – but few South African acts.
That caused a minor uproar among musicians here. How, they argued, can FIFA bring hundreds of thousands of tourists and sports fans all the way to Africa's most developed country at the continent's southern tip and not put South African artists up on stage?
IN PICTURES: Football around the world
On May 4, FIFA corrected all that, adding South African acts Freshlyground (previously scheduled only as a backup band to Shakira), Hugh Masekela, the Soweto Gospel Choir, and Somali hip-hop star K'naan.
---