Roy Bennett acquittal shows independence of Zimbabwe judiciary
A judgment that cleared Roy Bennett of terrorism and theft charges Monday signals a new autonomy in Zimbabwe's judicial system. But it does 't mean that President Robert Mugabe is ready to accept Bennett in his government.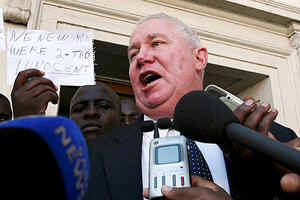 Philimon Bulawayo/Reuters
The acquittal of Roy Bennett, a senior member of the Movement for Democratic Change (MDC), is a test case of President Robert Mugabe's commitment to the shaky government of national unity (GNU), political analysts say.
Mr. Bennett, who had faced charges of banditry and terrorism, which can draw the death penalty in Zimbabwe, was cleared of the charges by the High Court Monday.
President Robert Mugabe had refused to swear in Bennett as the new agriculture deputy minister until he was cleared by the courts. Bennett's swearing in as a deputy minister has been one of the outstanding issues of the Global Political Agreement (GPA) which paved the way for Zimbabwe's 2008 power-sharing government.
But while Bennett's acquittal is a relief to the MDC, it is not a sign of better times to come, political analysts say.
"His acquittal will somehow lubricate the process," says Eldred Masunungure, a political scientist at the University of Zimbabwe in Harare. "But it would be too simplistic to say that it will end the crisis in unity government, as there are other outstanding issues which are still to be addressed."
Other outstanding issues include appointments of provincial governors, of the Reserve Bank Governor Gideon Gono and Attorney General Johannes Tomana, and sanctions imposed on Mugabe and his cronies by the West.
---