Will terrorism acquittal of MDC's Roy Bennett salvage Zimbabwe unity government?
Roy Bennett, a white commercial farmer and top figure in the Movement for Democratic Change (MDC), was acquitted Monday of terrorism charges. He's offered to lower his profile, but can that boost prospects of Zimbabwe's unity government?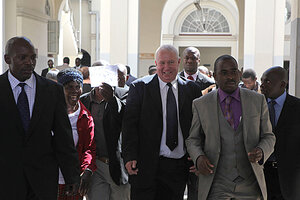 Tsvangirayi Mukwazhi/AP
Johannesburg, South Africa
Roy Bennett, a top figure in Zimbabwe's Movement for Democratic Change (MDC), was acquitted Monday of terrorism charges and of an alleged plot to overthrow the government of Zimbabwe President Robert Mugabe.
Mr. Bennett, a white commercial farmer who faced possible execution if convicted, had offered this past weekend to step down from his appointment as MDC's choice as deputy minister for agriculture. He told The Guardian that he would not stand in the way of the "restoration and reconstruction" of Zimbabwe.
"A single post should not stop that process moving forward," he was quoted saying. "So if it meant [that I should] step aside completely and not be involved, and that would move the process forward towards a fresh election and towards democracy, I would be the first person to endorse that."
Bennett's status has long been a stumbling block for the fragile coalition government of Prime Minister Morgan Tsvangirai and President Robert Mugabe. Since the September 2008 power-sharing agreement, following shady April 2008 elections, Mr. Mugabe has refused to swear in Bennett citing Bennett's pending criminal case. But analysts also say that Bennett's selection for the agriculture ministry was sensitive because of the danger of him reversing Mugabe's land-reform policies and the often violent seizure of white-owned farms by Mugabe's supporters.
Could Bennett's acquittal and his offer to step aside be part of a face-saving deal between Mugabe and Tsvangirai to move forward?
---