South Africa's Julius Malema ordered to take anger management class
South Africa's outspoken Julius Malema was fined $1,300 and ordered to attend anger management class for fomenting dissent within the African National Congress (ANC) party, and ejecting a BBC reporter from a press conference.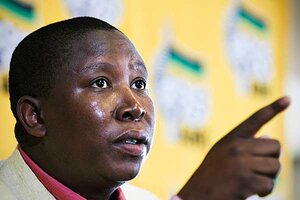 AP
Julius Malema, the pugnacious leader of the African National Congress's Youth League, has been fined for making statements that sullied the name of South Africa's ruling ANC.
Mr. Malema – who had broken with the ANC by embracing Zimbabwe President Robert Mugabe's land-reform program, ejected a BBC reporter from a press conference, and continuing to sing a struggle-era song that urged ANC members to "shoot the boers" – will have to pay a 10,000 rand ($1,300) fine. He has also been ordered to apologize to President Jacob Zuma, andto attend anger management classes.
While the news has been seen as a slap on the wrist for the 29-year-old Malema, political observer Steven Friedman says that dismissing Malema was never an option.
"The party is deeply divided, but this is not about Malema, and this is not about ideology," says Mr. Friedman, director of the Democracy and Governance Program at the University of Johannesburg. "The people who find Malema useful, also find it useful to thump the nationalist tub to accumulate personal wealth and power. I think the fact that Malema has been forced to apologize is a setback for these people."
---