Quietly, the Christian-Muslim killing continues in Nigeria
Access to power and lucrative oil contacts are driving a rise in Christian-Muslim clashes and killings. Nigeria's heavy military presence is not enough to quell violence that plagues the No. 3 supplier of oil to the US.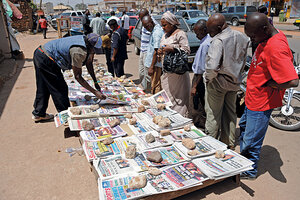 Newscom
Patience Dassah, a smartly dressed young Nigerian, has recently had trouble getting a taxi. But her trouble with okadas, the motorcycles that zip through the streets here in Africa's most populous country, does not lie with the typical traffic jams or fuel shortages.
"I live in a mostly Christian area, and now my Muslim okada driver will not take me there," she says, explaining that he is too afraid of being attacked or even killed. "He won't even pick up my calls."
Ms. Dassah lives in Jos, a city in central Nigeria now caught in a cycle of religious and ethnic violence.
Sandwiched between the country's largely Muslim north and mostly Christian south, Jos has endured a decade of periodic clashes between followers of the two faiths, a conflict that has flared up in recent months.
In two massacres this year, gangs with machetes from both sides descended on nearby villages and killed hundreds.
A boosted Army presence and nighttime curfew in Plateau State, of which Jos is the capital, has reduced the risk of more large-scale attacks. But some residents of Jos are resorting to "secret killings," in which a lone Christian is lured to a secluded Muslim part of town – or vice versa – and killed.
They are the reason Dassah says her okada driver no longer answers her calls. And they appear to show once again that a heavy military presence is not enough to quell the religious violence that plagues the No. 3 supplier of oil to the United States.
---