Widows unite to cope with horrors of Somalia's Al Shabab
Somali widows in the Eastleigh section of Kenya's capital, Nairobi, band together for protection against militants fighting for Somalia's Al Shabab group, which two New Jersey men were arrested this weekend for trying to help.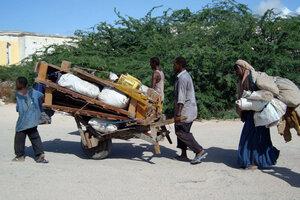 AP/Photo Farah Abdi Warsameh
The women found each other in the market of Eastleigh, a rough-and-tumble suburb of Nairobi, Kenya, that two decades of war have turned into a home away from home for Somalia's immigrants.
One is a Somali widow. Another is a teenage Somali orphan. They were neighbors in Mogadishu's Bakara market, until fighting and intimidation by Islamist militants such as the Al Qaeda-linked Al Shabab took away the men in their lives, and with them, the women's sense of security.
Now alone and unprotected in a safer but still hostile adopted country, they work together to sell tea on Eastleigh's busy streets, and cling to each other like sisters, a family of women.
"We are like turtles without shells, completely unprotected," says Istiqlal Harian Farah, a 35-year-old Somali mother of three children, two of them now dead. "We have no male relatives here, nobody outside in Europe or America to send us money, nobody in Somalia who can look after us. When someone pulls our dress in the street, you can't even shout out to complain."
She stops, her eyes filling with tears. "But when we come home and we combine our cries, there is a glimmer of hope. At least there is the confidence in having each other. We can go to the shops, and together we can protect our children."
---
Follow Stories Like This
Get the Monitor stories you care about delivered to your inbox.