As World Cup 2010 kicks off, where South Africa stands 16 years after apartheid
South Africa is a model of racial reconciliation following decades of apartheid, with a burgeoning black middle class. But high crime, unequal wealth, and social tensions persist as the nation hosts World Cup 2010.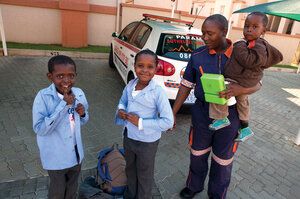 Melanie Stetson Freeman/Staff
Johannesburg, South Africa
The South Africa that hundreds of thousands of soccer fans will visit this month during the World Cup will take many people by surprise.
In Johannesburg, skyscrapers loom where rolling Highveld prairie once stood. In Cape Town and Durban, and even the stoutly midwestern city of Bloemfontein, smoothly paved highways, world-class airports, and posh hotels flourish amid South Africa's temperate, Mediterranean climate.
The insurgent and impoverished black townships that would have been do-not-enter zones in the early 1990s have now become tourist havens. The most famous of them all – Soweto, site of riots well into the 1990s – is ribboned with bed-and-breakfasts, gated communities, and shopping malls. It will play host to the opening ceremony and game in the spectacular new Soccer City stadium, with speckled panels that make it look like a gigantic calabash gourd. Or a poppy-seed bagel, if you prefer.
IN PICTURES: South Africa: Sixteen Years After Apartheid
---