World Cup 101: Is South Africa really prepared to host the World Cup?
In recent years, South Africa caught a lot of flack as it fell beyond on stadium construction and infrastructure improvements for the World Cup. The country got the job done in the end. But one question mark remains over the cup: Security.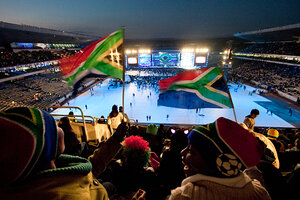 Gero Breloer/AP
Johannesburg, South Africa
Naysayers said that South Africa would never finish the many construction projects that were needed to hold the World Cup.
But just as Germany and Korea and other World Cup host countries did, South Africa beat expectations and appears to be ready for the hundreds of thousands of fans descending on the country over the next month.
South Africa refurbished airports in Johannesburg, Cape Town, and Durban; built new stadiums in Cape Town, Soweto, Nelspruit, and Rustenberg; and added commuter rail links, hotels, and widened highways.
IN PICTURES: Crazy World Cup fans
Now the main challenge is security.
South Africa has one of the highest violent crime rates in the world, with a murder rate that is some eight times the international norm, and 20 times higher than the murder rate in Britain, according to a 2007 study by the Institute for Security Studies (ISS).
---