Beyond World Cup 2010 glitz, boys' soccer club battles post-apartheid woes
The World Cup 2010 match of Uruguay vs. France kicked off Friday in Cape Town. Amid still-prevalent crime and segregation in post-apartheid South Africa, a soccer academy in a nearby suburb tries to keep boys out of trouble.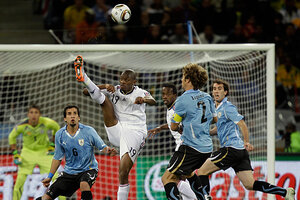 Julie Jacobson/AP
Nearly 70,000 football fans packed into the Cape Town Stadium for the city's opening match of Uruguay vs. France. In the shadow of Table Mountain and with views over Robben Island, where Nelson Mandela was imprisoned for 18 years, the stadium showcased the wealth and glamour of soccer in front of a worldwide audience.
But less than 13 miles away is the other side of the South Africa World Cup. In the drug- and gangster-ridden suburb of Heideveld on the Cape Flats, Mario van Niekerk struggles to run his soccer club and keep young players away from the clutches of crime. He is part of the community of so-called Cape Coloureds, a group of some 4 million mixed-raced descendants of slave laborers, mostly living in Western Cape province.
IN PICTURES: 10 World Cup players to watch
"A lot of the problems in Heideveld is the legacy of the last 40 years. When it was apartheid, we weren't white enough. Now that it's a black government, we're not black enough," says Mr. van Niekerk. "The Cape Coloured community on the Cape Flats has been caught in the middle. The World Cup is happening here but we won't see any of the money but we probably need it the most."
---