Vuvuzela controversy solved? A quieter vuvuzela
Vuvuzela factory owner Neil van Schalkwyk says he sells vuvuzelas that are quieter than the deafening horns stirring up controversy at the World Cup. Even Cristiano Ronaldo and Lionel Messi are complaining about the sound.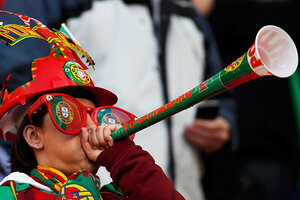 Jose Manuel Ribeiro/Reuters
Neil van Schalkwyk says he has the answer to the droning noise that many fans and players say is ruining the World Cup: A quieter vuvuzela.
The Cape Town businessman has produced vuvuzelas, in the colors of every World Cup team, with a redesigned mouthpiece that reduces the tuneless horn's sound output from a deafening 134 decibels to a more manageable 121 decibels, and says he was delighted by a decision today not to ban the popular plastic horns.
Mr. Van Schalkwyk says pressure to ban them was an affront to South African football culture and sent the wrong message to domestic fans.
IN PICTURES: 10 World Cup players to watch and Vuvuzela overload
His company Masincedane Sport is making 2.5 million vuvuzelas this year. He worked on the new design with a German company after criticism from foreign teams and coaches at last year's Confederations Cup.
"We think this quieter version will be a hit among fans," says van Schalkwyk.
Controversy grows
---