Kenya reins in hate speech ahead of constitution vote
Fears are rising of a repeat of the inflammatory speech seen ahead of the 2007 elections, which unleashed a wave of deadly ethnic violence. The recent arrests of three members of parliament for hate speech is a positive change.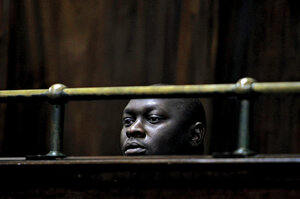 Noor Khamis/REUTERS
It was time, Kenyans heard on the radio in the run-up to the 2007 elections, for the "people of the milk" to "take out the weeds in our midst." "Mongooses" who had come to "steal our chickens" must be "run out of the farm" so "our land, our birthright" could be reclaimed.
These obscure references, broadcast on local language stations, were interpreted – accurately – by impressionable rural populations as a call to arms against rival tribes. Unchecked until too late, the propaganda helped launch postelection violence that killed 1,300 people and left Kenya's reputation for stability in tatters.
Today, as the country prepares for an Aug. 4 vote on a divisive new constitution, there are fears that such inflammatory statements are creeping back. But June 15, three members of parliament were charged with hate speech and incitement to violence. A "national cohesion commission" warned others – including William Ruto, the higher education minister leading opposition to the constitution – that they, too, were being watched.
"Seeing arrests is very positive, when in the past there has been a lot of buck-passing," says Charley Williams at the British High Commission in Nairobi, which raised alarms on hate speech ahead of the 2007 election.
Ethnic undercurrents to politicking
---