World Cup 2010: Is the Jabulani ball bad for the World Cup?
The official World Cup 2010 soccer ball, the Jabulani, is terrible, say players. Its flight is unpredictable and has produced some of the lowest scoring early matches in World Cup history.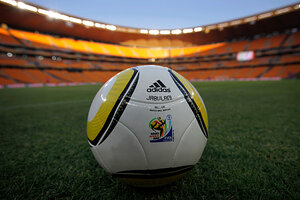 Kai Pfaffenbach/Reuters
Johannesburg, South Africa
It is becoming a World Cup tradition.
Each tournament Adidas announces its new ball is faster, rounder, and curls more. And each tournament the world's best goalkeepers, who rarely appreciate anything that makes their job harder, complain about it.
This time though the row about the ball – and not just the ball itself – has taken off more than usual.
IN PICTURES: 10 World Cup players to watch
The Adidas Jabulani, which roughly translates as "rejoice" in Zulu, is the official ball of the 2010 World Cup. But the sphere is emerging as the second-most talked about aspect of this tournament (the first, naturally, being the vuvuzelas).
Not only has it been blamed by goalkeepers for causing embarrassing moments, it has also been lambasted by forwards who have found their long shots ballooning over the bar and by wingers whose crosses have failed to find their man.
"This ball is the worst ball that I've seen in my life," said England coach Fabio Capello. "For the players it's terrible – particularly for the keepers because it's impossible to judge the trajectory. It's good when you play short passes but when you try to switch the ball with long passes it's really difficult to understand the trajectory. Sometimes it is impossible to control."
Nigeria's Vincent Enyeama, so impressive against Argentina in his side's opening match, blamed the Jabulani for his mistake in the Super Eagles's match with Greece Thursday.
---