Burundi election lacks critical ingredient: presidential candidates
Allegations of fraud in May's local elections have brought a new wave of violence to the capital city and lurched Burundi into political crisis. Opposition parties are refusing to put forward any presidential candidates, a week before Burundi's election.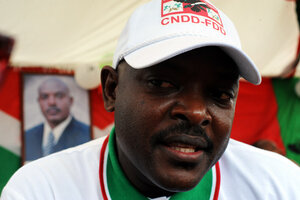 Roberto Schmidt/AFP/Newscom
Less than a week away from its first presidential vote since the last armed group laid down their guns, Burundi's election is still missing a critical ingredient: candidates.
Only President Pierre Nkurunziza is running in the race. But members of opposition parties are campaigning anyway – not to win the election, but to convince their fellow Burundians to boycott the vote.
"We'll hold a campaign against elections. We won't kill. We won't fight. But we will ask people not to vote," says Leonard Nyangoma, a former presidential candidate and spokesperson for a coalition of 12 opposition parties who pulled out of the race, including Agathon Rwasa. He is the former leader of a holdout rebel group called the FNL that only laid down its arms in 2009. UPRONA, the country's second-biggest political party, also joined the boycott.
Those abstaining say the president's party stole its May victory in local elections. The ruling CNDD-FDD won 64 percent of that vote, in which 90 percent of the country's registered voters – more than 3 million people – cast ballots. The ruling party has roots as one of the largest rebel groups in Burundi's 10-year civil war, which ended in 2003. Party chairman Mr. Nkurunziza was elected in 2005 to a five-year term as president.
The May election itself was largely peaceful, to the surprise and relief of observers, but allegations of what Mr. Nyangoma characterizes as "massive fraud" have lurched post-conflict Burundi into political crisis – and brought a new wave of violence to the capital city.
In the past week, more than 30 grenade explosions have been reported in the capital, killing several people. Violence has also been reported in rural areas.
---