Uruguay-Netherlands semifinal: Historic Holland win sets up an all-European final
The Men in Orange hung on in a thrilling 3-2 victory in the Uruguay-Netherlands semifinal. Now the stage is set for a European final, but will Holland face Spain or Germany?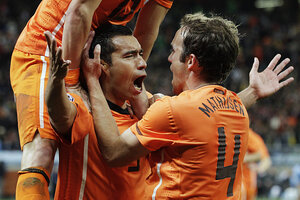 Schalk van Zuydam/AP
It will be an all European World Cup final this Sunday after Holland beat Uruguay 3-2 in the Uruguay-Netherlands semifinal on a chilly Cape Town tonight.
But the question on most Dutch lips as they left the Cape Town stadium was: Will the opponent be Spain or their nemesis Germany, who defeated them 2-1 in 1974?
STORY: Three reasons why Germany will beat Spain
The Men in Orange overcame their South American opponents more comfortably than the score line suggested.
In truth this was a game too far for Uruguay who were reduced from a two-trick pony to a one-trick steed in the shape of captain Diego Forlan, after the red card of Luis Suarez in the quarterfinal clash against Ghana.
Playing in their traditional light blue and black shorts, they seemed overwhelmed by the occasion and the majority Dutch crowd among the more than 62,000 supporters.
It's been a while since so many white faces decked in orange could boast of their heritage in a South African stadium, but shout, sing, and blow their vuvuzelas they did.
---