Morning after: The Netherlands' World Cup fans euphoric in Cape Town
The Netherlands' World Cup fans are basking in the orange glow of Tuesday's semifinal victory over Uruguay, which propels Holland into the championship match for the first time since 1978.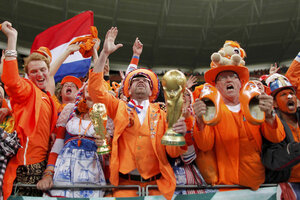 Carlos Barria/Reuters
It's the morning after for the Netherlands' World Cup fans in Cape Town, South Africa, but the euphoria from Tuesday night's 3-2 win over Uruguay in the semifinals has not worn off.
"2010 is our year – the year of orange. [Midfielder Wesley Sneijder] and [Forward Arjen Robben] can win it for us, because they play so well for the Netherlands. I don't mind who we play because we are unstoppable," says Emma Muller, as she shopped with her friend, Maud Groot, on Cape Town's famous Victoria & Alfred waterfront while their partners slept in after a late night of celebration. Both women still had the Dutch flag painted on their faces and had tickets for the final.
But who will the Netherlands face in the final? Will it be Germany or Spain?
---