Five years after death of John Garang, a divided Sudan wonders: What if?
Thousands gathered today at the grave of Sudan leader John Garang de Mabior, who was killed July 30, 2005, after signing a peace deal between North and South. Would Sudan still be divided if the tenacious rebel was still alive?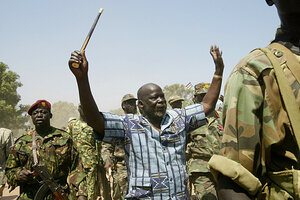 Karel Prinsloo/AP/File
Crowding the tops of the city's roofs, vehicles, and trees, a sea of faces struggled to catch a glimpse of the US-educated African bush guerrilla.
John Garang de Mabior – the burly, coal-skinned Sudanese Dinka known simply as "Dr. Garang" to most of his followers – had arrived in Sudan's capital, Khartoum, having signed a peace deal ending the two-decade rebellion he led in the nation's marginalized south. Some one million turned out to greet him.
Less than one month later – on July 30, 2005 – the tenacious leader was Sudan's new vice president, and dead. Five years later, the optimism spurred by the peace deal has largely faded and Sudan's split appears imminent. A January 2011 secession referendum in the south is expected to result in either the country's division, renewed war, or both.
Indeed, even the scene at Garang's grave today was starkly secessionist, with thousands of southern Sudanese gathering to pay vigil and wave southern Sudanese flags. Hundreds of southern police officers and troops marched in the streets of Juba.
Many still wonder: What if Garang had not died in a helicopter crash that fateful July day?
---