Kenya referendum: Voters cast ballots, tensions high
Today's historic Kenya referendum over whether to back a new constitution sparks fresh memories of the ethnic clashes that killed more than 1,300 people in the wake of the 2007 presidential election.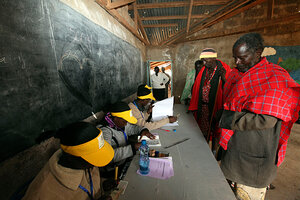 Sayyid Azim/AP
Millions of Kenyans lined up before dawn at polling stations stretching from chilly Nairobi to the semidesert of Lodwar to cast their ballots in what many here are heralding as a historic day for change.
Each of the 12.4 million registered voters has a simple choice: to approve or reject a new constitution, the draft of which has been internationally praised for addressing contentious issues of tribalism, centralized political power, and impunity for corruption.
Opinion polls have consistently put support for the draft charter at above 60 percent, with 25 percent opposed and the remainder undecided.
Security is tight during the Kenya referendum, with memories still fresh of the ethnic violence following the country's last national vote – the Dec. 2007 presidential election – when 1,300 people died in post-poll bloodshed.
IN-DEPTH ANALYSIS: How Kenya came undone in 2008
63,000 police officers deployed
More than 63,000 police officers have been deployed nationwide. It seems to have worked: turnout was high at most of the 27,000 polling stations.
As queues of voters thinned to trickles an hour before the official end of balloting Wednesday afternoon, there were no reports of trouble.
"No matter what mischievous politicians tell us, we know that this constitution will be good for Kenyans," says Zapporah Wanjiru, one of the 300,000 people forced to flee their homes as the violence spread early in 2008.
---