Kenya referendum monitored by SMS and Twitter
The Kenya referendum came off well despite some irregularities and tension. One reason: a new system that uses SMS and Twitter to allow every Kenyan to be an election monitor.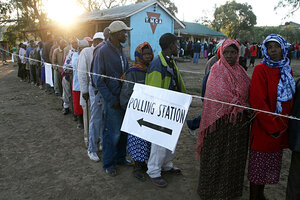 Antony Gitonga/Reuters
A little less than an hour after voting started, an alert Kenyan waiting outside a polling station noticed something wrong.
Agents of the local legislator arrived – in a government vehicle – and actively began campaigning for the queuing voters to say 'No' to the country's new constitution in the Kenya referendum.
Because balloting had already started in Wednesday's nationwide referendum, that was illegal.
The voter grabbed his cellphone, tapped out the text message "mp agents going round poll stations influencing people 2 vote no," and sent it to a group of volunteers monitoring the election.
Instantly, 160 miles to the south in a new office block in a Nairobi suburb, a volunteer saw the SMS pop up on her laptop and straight away called local electoral officials to investigate.
The text message was one of 1,230 reports sent by the time polls closed to a Kenyan project that married traditional election monitoring with social media and Internet crowd-sourcing.
The Uchaguzi platform – the word means "election" in Kiswahili – grew out of earlier software developed during the violence that rocked Kenya after the 2007 presidential election.
That program, Ushahidi (meaning testimony), has since been used to map the fallout from the Gulf of Mexico oil spill, earthquake victims in Haiti, and xenophobic violence in South Africa.
What it does
---