Kenya constitution vote could pave way to stability
A key concern in the Kenya constitution vote is ethnic divisions. But in the Rift Valley town of Eldoret, where much of the 2008 postelection violence occurred, voters were calm and even top 'no' vote politicians accepted the results.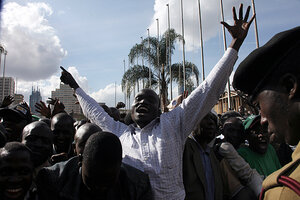 Sayyid Azim/AP
Eldoret, Kenya; and Johannesburg, South Africa
As the official vote-counting continued, politicians and activists who supported a referendum to approve a new constitution claimed victory and opponents admitted defeat, in a vote that could pave the way for a more politically stable Kenya.
The "yes" vote to approve the new constitution garnered 69 percent of the vote, with nearly half the polling counted, making it all but certain that the constitution would be approved. The new constitution, written in 2009, was backed both by Kenya's sitting president, Mwai Kibaki – who is forbidden from running for office again – and by current Prime Minister Raila Odinga, who is a likely front-runner in the next national elections, expected in 2012.
Under the current Constitution, which remains in effect until the vote count is finalized, the president has wide powers similar to those given British colonial administrators, including the naming of judges and the deployment of security forces. The new constitution would curtail those powers dramatically, and advocates say that a new system of checks and balances will prevent Kenyan electoral politics from becoming a violent, winner-takes-all process. The deeply flawed elections held in December 2007 sparked a wave of ethnic violence that killed 1,300 people, until a coalition government between the two main contenders was negotiated.
---