Mia Farrow contradicts Naomi Campbell's 'blood diamond' testimony
At the war crimes trial of former Liberian president Charles Taylor, Mia Farrow said Naomi Campbell bragged about receiving uncut diamonds from Taylor via unknown messengers. Prosecutors say the stones funded civil wars in Liberia and Sierra Leone.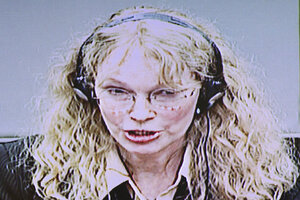 Robert Vos, Pool/AP Photo
The line between art and war crimes just got a bit fuzzier, as actor-activist Mia Farrow gave testimony that British supermodel Naomi Campbell claimed to have received uncut diamonds from Liberian then-President Charles Taylor, who is now on trial for war crimes.
A war-crimes trial with Ms. Farrow – famous for her very public divorce with Woody Allen and charges of incest against him – and Ms. Campbell – a supermodel known more for flinging cellphones at her staff than for her expertise on war crimes – was almost certain to bring attention to this trial.
But this, for once, appears not to be the main reason the two celebrities have been included in a trial that could have broad ramifications for human rights and the presidents who tend to abuse them.
Charles Taylor is the first former president to face trial for accusations of war crimes and abuses of human rights. At least 250,000 people died and many more were maimed during the civil wars of Liberia and Sierra Leone, in which Mr. Taylor is accused of playing a leading role in orchestrating.
Prosecutors say that Taylor used Sierra Leone's rich diamond deposits to fund his war against Liberian opponents, and to keep Sierra Leone itself under his control.
Enter Naomi and Mia
Which is where Naomi Campbell and Mia Farrow come in.
---